Faculty
Sai Nalanda school consists of a team of qualified teachers who prepare students to succeed in a competitive work place. Each program is designed to give students the skills and experience needed to advance their careers. The faculty's close-knit community provides students with many opportunities to get involved and network with fellow classmates. A comity of parents has been formed to improve the relationship and the level of communication between the parents and our faculty. Through this organisation, the voice if every parent is conveyed to the management.
Mr. Siddarame Gowda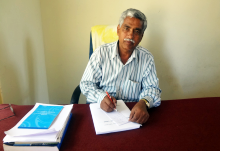 As Thomas Henry Huxley said --- "The rung of ladder was never meant to rest upon, but only to hold a man's foot long enough to enable him to put the other somewhat higher." We are the rung, use us and place yourself in a better world.The importance of education in the life of an individual cannot be overstated. It shapes individuals in their formative years and instills them with values that would govern all their choices in life. we work at the transformation of every child by translating the dream of every child into a reality. The School has evolved a time tested world-class comprehensive system of education with an ambitious academic syllabus and an exciting curriculum. The curriculum is knit carefully and diligently with a clear focus.
Every child at the school is groomed to grow into a confident and complete, vibrant and value based, sharp and systematic, productive and perceptive, committed and compassionate individual. In their discovery of the future, they would adopt the adventurous and unyielding spirit of Ulysses: "To strive, to seek, to find, and never to yield. Our teachers are not only kind, able and persevering but also far sighted who visualize an Institution where traditional and progressive methods of teaching harmonize with each other.